Posted on 27th Feb, 2021 in Snacks
It's been a full year since I've returned from Japan and yet I'm still finding that I have un-reviewed flavors of Kit Kats lying around. I covered the vast majority of my haul in my last post but today I'm going to do a bit of a deep dive in to a Yokohama exclusive flavor that wasn't in my suitcase.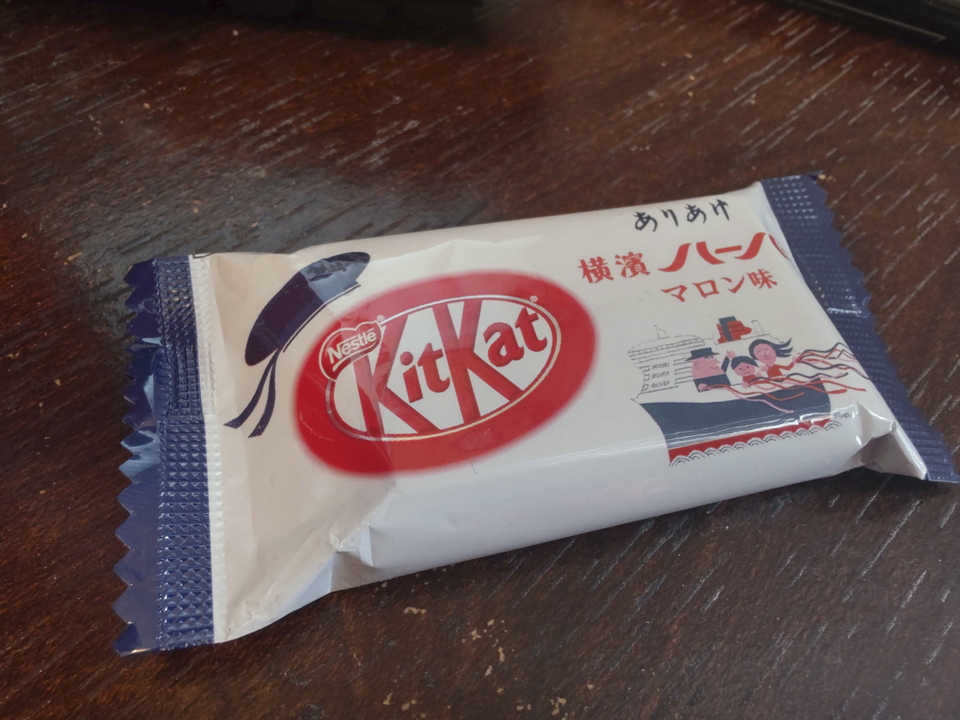 Introducing the Ariake Yokohama Harbour Chestnut Flavor (ありあけ 横濱ハーバー マロン味) Kit Kat! There's a surprising amount of information to unpack about this flavor so let's get to it.
Let's start with the name. Yokohama is the 2nd largest city in Japan and is well known for being the port at which Commodore Perry showed up with warships to force Japan to open up to trade. However, there isn't a place called Ariake in Yokohama. Ariake Yokohama Harbor is actually the name of a local confectionery brand with a storied history. In the 1930s, the Ariake Confectionery company originally produced traditional Japanese sweets before introducing their own products. In the 1950s they introduced a ship-shaped sweet with a chestnut filling called a "Roman". Due to it's appearance they renamed it to "Harbour" in the 1960s.
The company went out of business in 1999 after making some bad investments and the recipe for Ariake Harbours was lost in the process. Fortunately they had a large fan following. Former employees and fans spent two years reverse engineering the recipe and relaunching the company. Today the revived company manages a few different brands of confections as well as having numerous new products.
With the past behind us, let's talk about the Kit Kat now. Just like the Tokyo Banana flavor, this Kit Kat is a marriage between a popular confection and the traditional Kit Kat form factor. It's got a delightfully sweet aroma that feels right at home in a bakery. As for the taste, it's just as good. A mild chestnut-y flavor mingles with sweet white chocolate making for an almost custard-like taste. It's quite nice. Now I want to try an actual Harbour.