Posted on 11th Nov, 2019 in Photography
A few weeks ago, I mentioned that I had somehow gotten myself mixed up in a anime popup gallery. After weeks of late nights brainstorming, setting up a website, and agonizing over which photos to display; the Pop-Out Gallery was about to open its doors. To say that I was nervous would have been an understatement.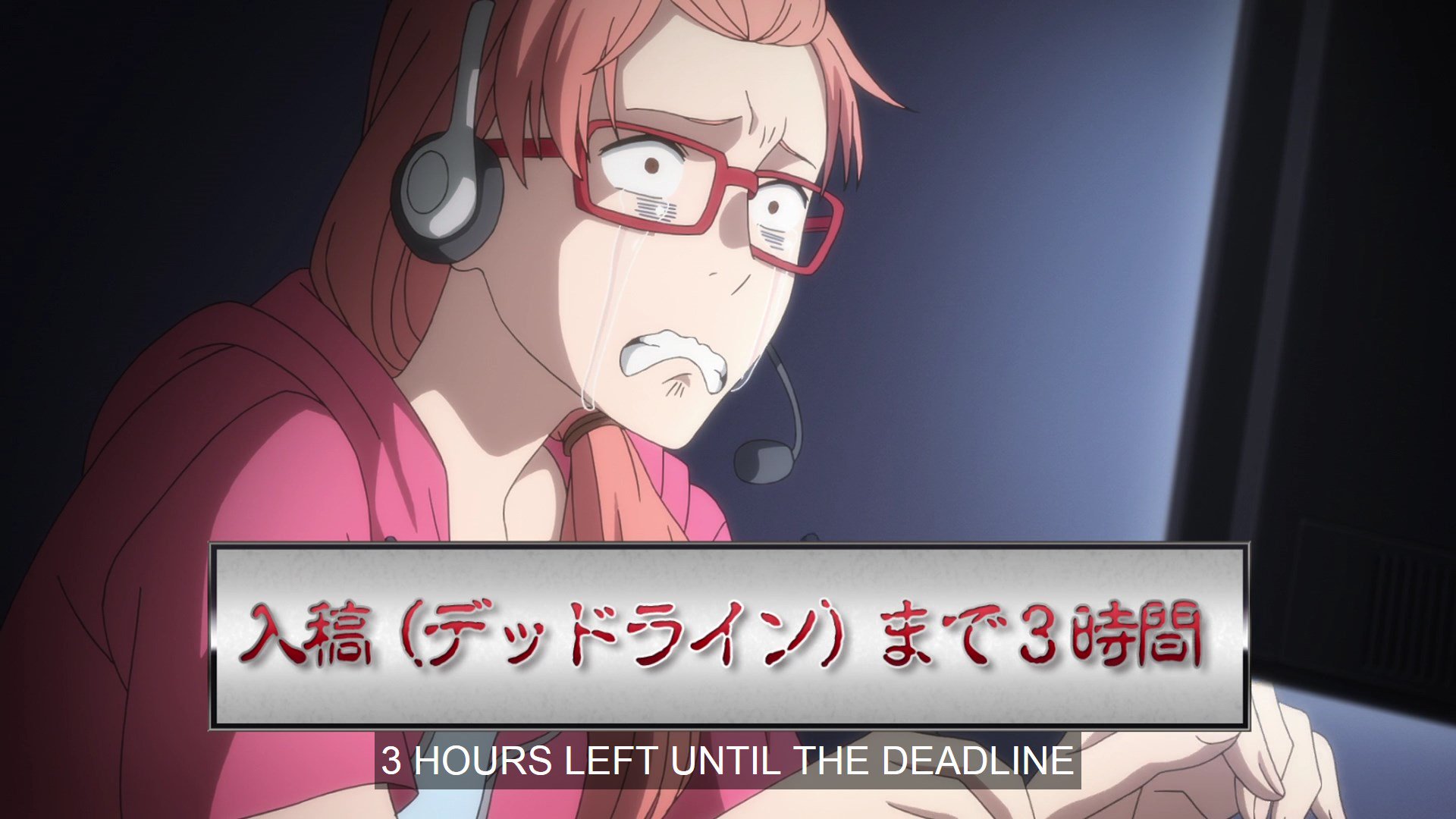 Actual photo of me at my computer (circa 3:00 AM)
Looming Deadlines
I had spent an inordinate amount of time trying to come up with a photo that fit this year's theme, Kyoto Animation. Most of the ideas I had lead to dead ends and I was seriously panicking. Finally the day before the show, I decided to gamble it all on being able to find an interesting scene to photograph during lunch. With some luck, I found one! The rest would be up to my rudimentary Photoshop skills.
I forgot to mention, but this is the KyoAni related piece I came up with for the Pop-Out Gallery last week. I think I could have done better but it's a blend of 2 things I really like #NYC and Full Metal Panic. #フルメタ pic.twitter.com/fRNJaz3aZj

— SolidX (1 Day More…until AnimeNYC) (@HelpMeHekuta) November 15, 2019
The Main Event
After a stressful day of system malfunctions at work, I finally shutdown my PC at 6 PM and headed over to the Waypoint Cafe. One of my coworkers tagged along to roast me show their support. When we arrived, the cafe was setting up for the event, so there were a number of people waiting outside. Among them were several of my friends, so after greeting everyone I left my coworker at the door and hurried in to make preparations. It was right about then that I started to regret all of my choices up until this point. I don't know why I thought I could do this, but it was too late to back out now.
Once the doors opened, I was visibly overwhelmed. Fortunately I had also dragged my close friend and fellow first-timer, Ayleinee, in to being featured at this event. She's an up and coming game developer and illustrator. If you haven't already, you should definitely follow her on Twitter and Instagram! After panicked at the initial crowd and all of our friends mobbing us, we went to grab dinner with some friends. Neither of us are great at handling a lot of attention but after dinner, we came back refreshed and spent the rest of the night interacting with everyone in between bouts of hiding from everyone.
Pop-Out Lessons
Even though I've had the privilege of showing a couple of my photographs in at my job's annual employee art show, I haven't ever displayed my work publicly before. It was honestly nerve-wracking. Between my exhaustion (from both work and trying to get my photos together in time) and the gnawing self-doubt of not having brought my best work and not being an actual artist (I was the only photographer in a room full of skilled illustrators), I was more than ready to throw in the towel. However, a lot of my friends came out to support me and I met a bunch of cool new people. That gave me the courage to face the vulnerability created by sharing my photography with others head on. Are there things I would do differently, if I knew what I know now? Absolutely, but I am so glad to have had this opportunity. My work however isn't done. There are more photos to take and now books to publish! I'll get in to that another time though.