Posted on 6th Nov, 2017 in Production
Beijing's airport (PEK) is my least favorite place in the world. It's number one on a list of places that includes: the dentist, the State of New Jersey, and Times Square. That is a distinction it managed to earn in the 48+ hours I spent there last week. Last time I posted, I was cheerfully sitting in Terminal 3 waiting for my flight to Fukuoka (FUK) via Dalian (DLC) and writing about how Taro keeps foiling my plans. I'd have never anticipated that I'd end the day back at the same airport and as an illegal immigrant.
MY FLIGHT LEFT WITHOUT ME
The night before, I had landed in Beijing after my flight departed New York (JFK) late. After spending hours in line to get a temporary 24 hour visa and then almost an hour in line to get a taxi, I stumbled my way to my hotel to sleep through my 14 hour layover. Unsurprisingly, I don't know a single word of Chinese which complicated simple matters like getting to the hotel and checking in. Thankfully, my taxi driver, the hotel staff, and I found a way to overcome the language barrier. The night went quickly and the next morning I climbed in to the back of a shuttle headed back to the airport.
At the airport, I showed up at the gate early after grabbing some obscenely expensive breakfast, but the gate was closed. When I inquired as to what was going on with my flight, the gate agent informed me that I should proceed to the airline ticket counter for further assistance. So I made haste for the front of the airport where hopefully I might find a solution. The agent said they had no choice but to re-book my flight for the following day. He was just as confused as I was about why my flight had departed before its scheduled time.
I accepted the ticket and then found a place to sit until the dread of being stranded in Beijing had subsided. This was my first time traveling alone internationally and I was experiencing some severe turbulence. Once that had passed, I found a place to stay and decided to find things to see while I wait for the next flight. This wouldn't affect the production schedule but it means I'd be flying right in to the start of shooting. To make matters worse, all of my basic necessities were in my checked luggage which was now en route to Dalian.
FORBIDDEN CITY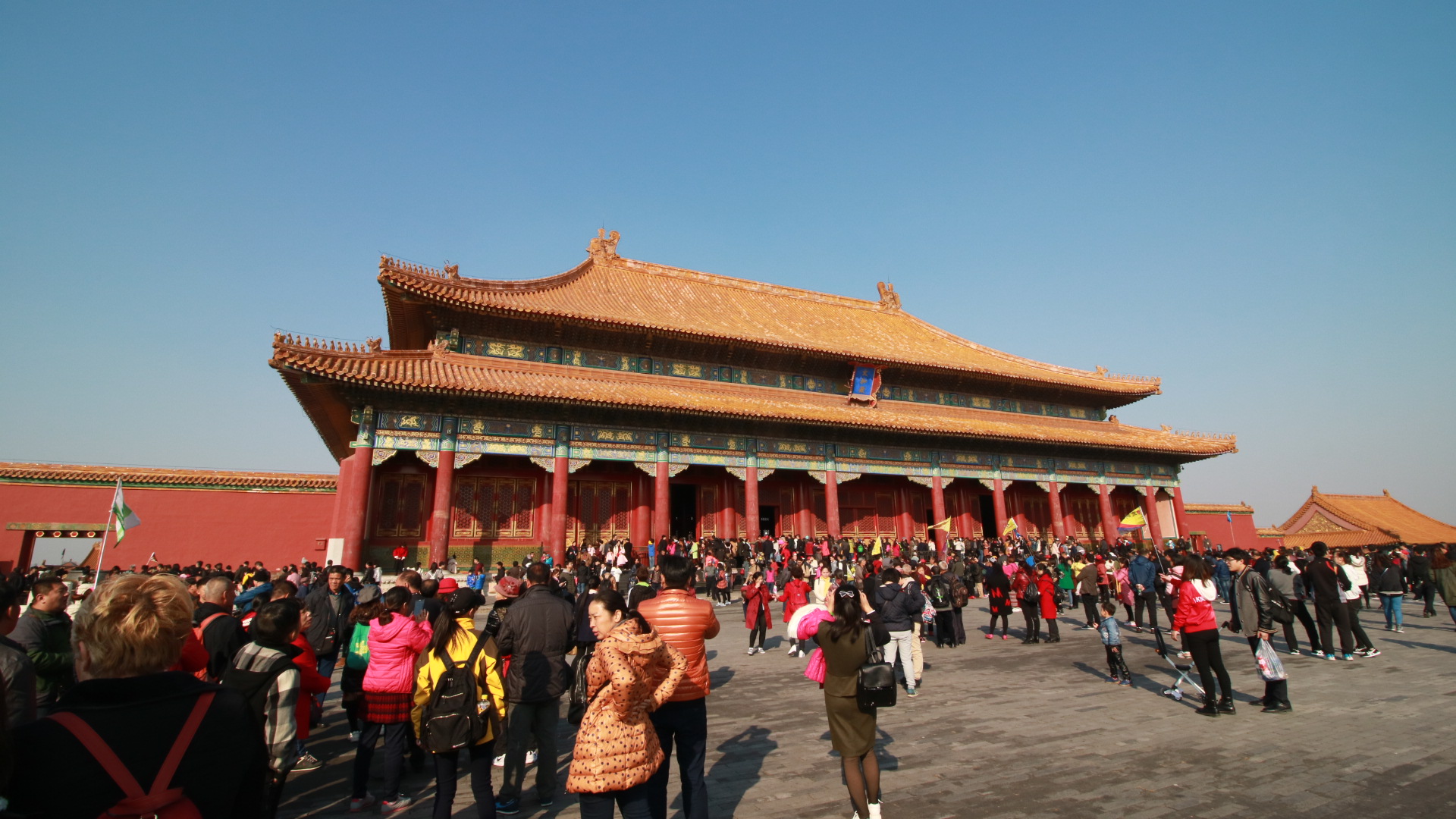 I made my way toward the Forbidden City. The crowds were intense but the trip was worth it. No matter what I've been told, nothing could have prepared me for the scale of the place. It's huge! By the time I made it to Palace Gardens, both my mind and my body were in need of more time in the Palace of Eternal Harmony.
The highlight of my day so far was helping out some lost tourists looking for the entrance to the Forbidden City. I spend a lot of my time dreading having to talk to strangers, but the whole time I was in Beijing, I was fretting over the fact that I couldn't communicate with literally anyone.
HOTEL CHECK-IN
I arrived at my hotel after navigating the bus system with the help of a some Eastern European tourists who boarded with me at Dongzhimen. I was exhausted from the day's activities and looking forward to a nice shower and soft bed. Unfortunately for me, that was not in the cards. China's immigration laws are very strict. When you rent a hotel room, you have to show them your identity card (if you're a Chinese national) or your passport (if you're a foreigner). They then verify that you have a valid visa before you can check in. Somehow, the thought didn't occur to me or anyone else at the airport that if my visa expired on the day of my original flight and my new flight was following day, I would need to have it extended. That meant no hotel room. Furthermore, if I didn't get back to the international territory of the airport by midnight, I'd be in the country illegally… which isn't exactly the reason I had envisioned for me going to jail.
BACK TO THE AIRPORT
So back to the airport I went, hoping to find a quick fix to all these administrative errors. I spoke with a new ticket agent who provided me a Certificate of Delay / Cancellation. This magical document bestows it's bearer immunity from being interrogated by immigration at their port of entry / exit when they need to explain why their visa dates and flight dates don't match up without speaking any Chinese. As for extending my visa so I could get a hotel, I was out of luck. To extend my visa, I would need to visit the Entry / Exit Administration Bureau located in the heart of downtown Beijing. The thing about that office though is that it doesn't operate 24/7 and they had already closed for the day. Rather than risk getting turned away from yet another hotel and being caught outside of the airport after midnight, I settled in for a long night of loitering.
It was around 1 am when Terminal 3 started to wind down to a full stop. It was at this time that I begin to recall why I despise this place so much. The lights dimmed and the crowds thinned. Those who remained are the damned. I spent the long night wishing for a shower. Instead I resorted to playing visual novels in a closed Thai restaurant which was definitely the best place to hide out for long overnight layovers. It was 5 am when the crowds started to returned in order to catch the first flights of the day. I decided to check-in for my rescheduled flight and proceed through security for the next round of waiting.
FINALLY JAPAN
After waiting for what felt like an eternity I was on a plane to Dalian. The flight went by in the blink of an eye probably because I passed out the moment I got in to my seat. After landing, we had to go through immigration in order to re-board the exact same plane we landed on to continue the flight.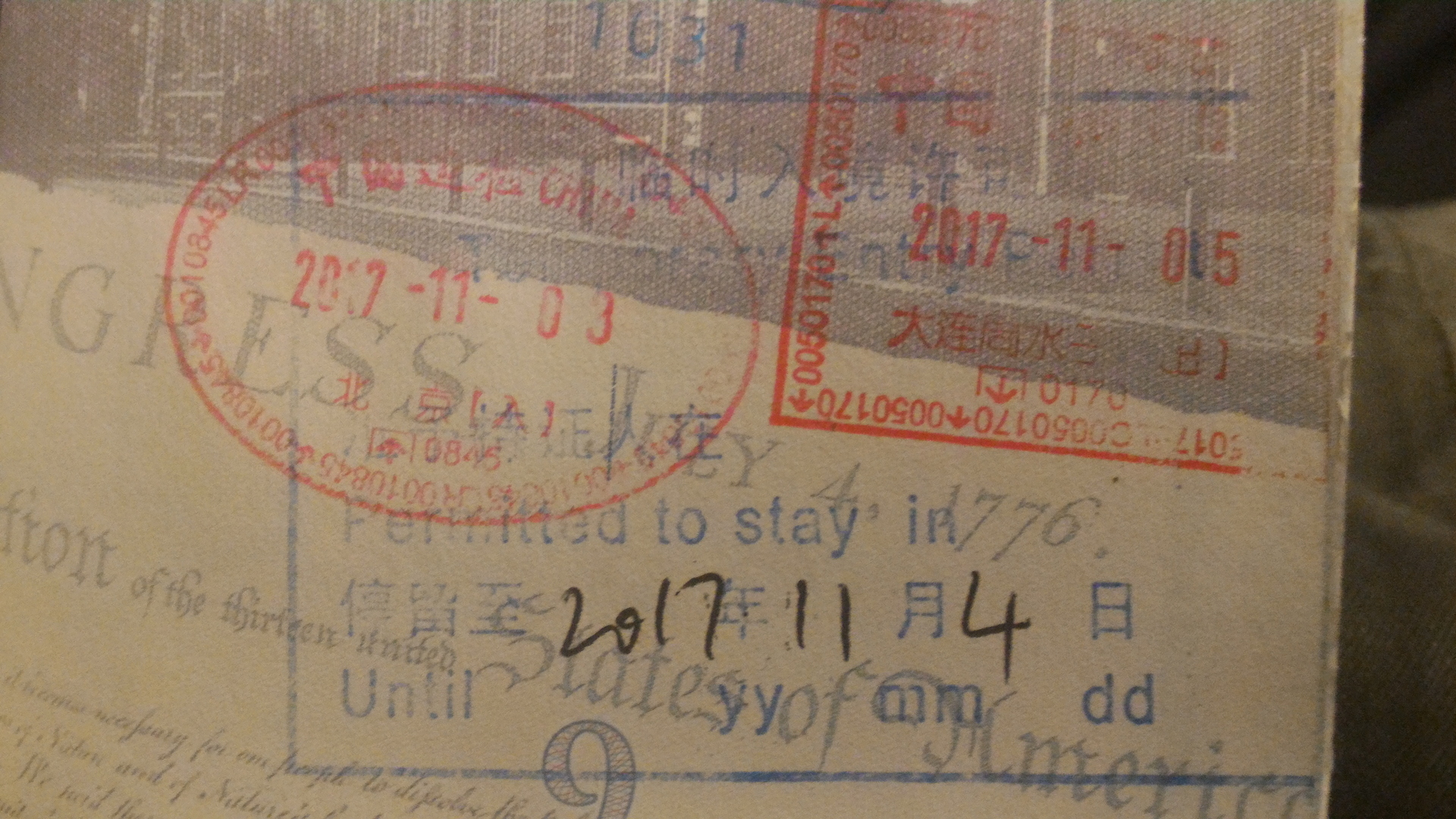 Unlike in Beijing though, all the immigration officers were military personnel. To make the situation more unnerving, once they saw the mess of entries in to / exits out of Beijing stamped in my passport the immigration agent who had been stone faced before now had a look of bewilderment. He called over his supervisor who also reviewed my passport carefully before making it known that he wanted to know why there someone who was temporarily in the country illegally was now standing in the control area of an airport in a different part of the country.
If this were a movie, the next scene would involve me being interrogated in a language I don't speak in a dimly lit room. Fortunately, having experience with that from my first time in Beijing last year… I preempted the pair with the magic document the airline gave to me in hopes they'd be appeased. Thankfully that did the trick and 20 minutes later I was on my way to Fukuoka!
LOST LUGGAGE
After landing in Fukuoka, I remembered that my bags had most likely arrived separately from me. So I inquired at the information desk to see if they had seen them. (It was exciting finally being in a country where I could communicate verbally with others!) However, it is with deep regret that I must inform you that they in fact did not know the whereabouts of my luggage.
The baggage team did try their best though. They took a report and gave me some money to buy some clothes. They said they'd would call me as soon as they had any new information.
With that done, I left the airport in a daze and dying for a hot shower. That would be some time away though. My first order of business was to rendezvous with the rest of the Suit Up! Japan team and get some clothes. By the time that was done, I looked like something right out of the Uniqlo Fall catalog.
Warm wishes from the seventh circle of hell.
—SolidX
UPDATE: They found my luggage 2 days later. Customs in Beijing had raided it to confiscate a stray camera battery. The baggage team at Fukuoka really is the best! (Beijing however remains the worst.)
If you're interested in the project itself though, you can follow it instead of me on Twitter, Instagram, Facebook, or Kickstarter