Posted on 25th Nov, 2017 in Production
It had been whirlwind of a week, and we were finally on our last full day in Japan. After recovering my luggage and enjoying a couple of days in Tokyo, I decided to end the trip with a bang. (Not literally!) Rather than indulging in murder, I decided to head out to Osaka for one last day of solo exploring.
Osaka!
Located on the island of Honshu, Osaka is Japan's second largest city. It's also known for its great food. The last time I was there, I was traveling with my best friends but we didn't have the time to see too much. This time I planned to leave with no regrets. (Unfortunately I keep forgetting that It's impossible to take in all of Osaka in a day, let alone a few hours.)
It was around 13:30 when I arrived in Osaka. I made my way through the labyrinthine Osaka Station complex to the Pokemon Center to pick up gifts for people back home. I bought more than I had expected so before getting on the subway to my next destination, I found a coin locker to store my goods. Surprisingly the coin lockers now accepted IC card payments as well as coins. (Japan really is living in the future!) My last souvenir stop was the Harley Davidson shop in the Fukushima ward. I had heard from my dad that each shop sells unique poker chips. Avid bikers collect them since they're one of the most reasonably priced items on sale. As luck would have it, I found the one shop that didn't have any but I did learn that the Japanese word for "poker chip" is "poker chip" or to be exact ポーカーチップ.
Dotonbori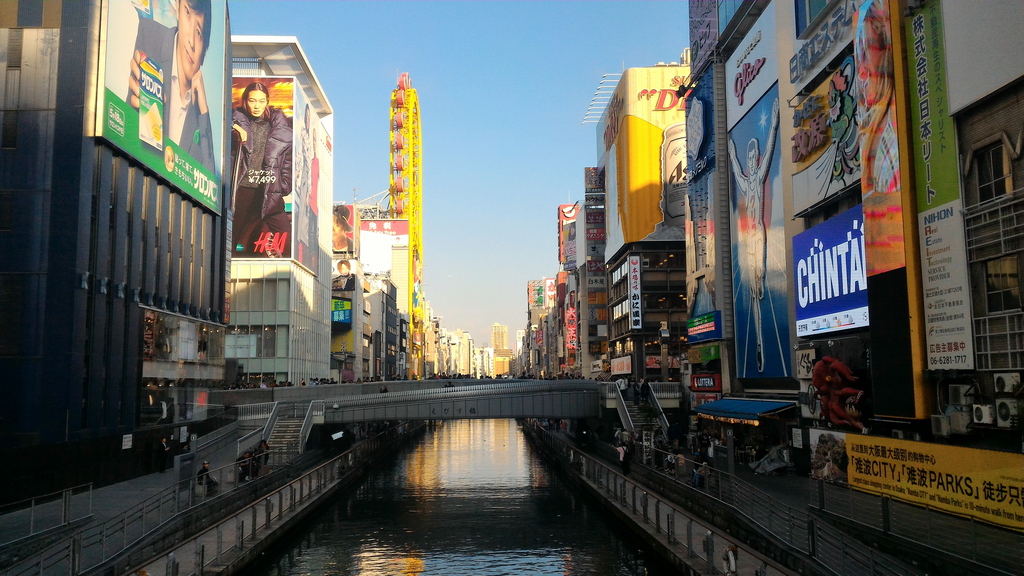 On the recommendation of a friend I made my way to Dotonbori, a center of nightlife and entertainment built along a canal with the same name. Although the area was once known for traditional entertainment, it also has a number of famous restaurants. Naturally, the first order of business was lunch. If you're in Osaka and only have time to eat one thing, it's got to be takoyaki! Fortunately, you can't take more than a few steps without encountering a takoyaki shop. The most popular one is Otakoya, but I wound up at Kukuru which is known for their distinct signage and the really large pieces of octopus they cook with. I decided to order a "Museum Box" which contained both traditional takoyaki and an adventurous bacon & cheese takoyaki. Afterward, I strolled down the famous canal to take in the sights.
TAKOYAKI!!! pic.twitter.com/gwa2nWpXQs

— SolidX is Seriously Sleep Deprived (@HelpMeHekuta) November 10, 2017
Idorus
If you've spoken to me for longer than 5 minutes, you'll know that I'm allergic to maid cafes and idols. The particulars are a story for another time but I suppose you can call it a form of anime convention induced PTSD. As a result, I tend to avoid things like idol anime and idol fanboys. So it came as a shock when I found myself face to face with my natural enemy underneath a bridge in Dotonbori…
The "animal idol unit", Animal Beast, was holding an event with a number of other idol groups along the canal. It turns out that they're also official ambassadors for Osaka's Naniwa ward. I guess tourism promoting idols aren't just an anime plot device…
Golden Gai Nomikai
Train bento! pic.twitter.com/nckPxKSLzw

— SolidX is Seriously Sleep Deprived (@HelpMeHekuta) November 10, 2017
It was time to head back to Tokyo for the project's unofficial wrap party! Figuring that I might have to be a responsible adult for one more night, I grabbed a train bento for dinner and bid Osaka good bye sooner than I had hoped. I arrived in Tokyo around 22:30 and messaged the others to find out where we would meet up. They said to meet up in Shinjuku but didn't provide an exact location for quite some time. It turns out they were pre-gaming and in the process one of the models lost their wallet (but luckily not their passport). We finally rendezvoused after 23:30 and the party was already visibly inebriated.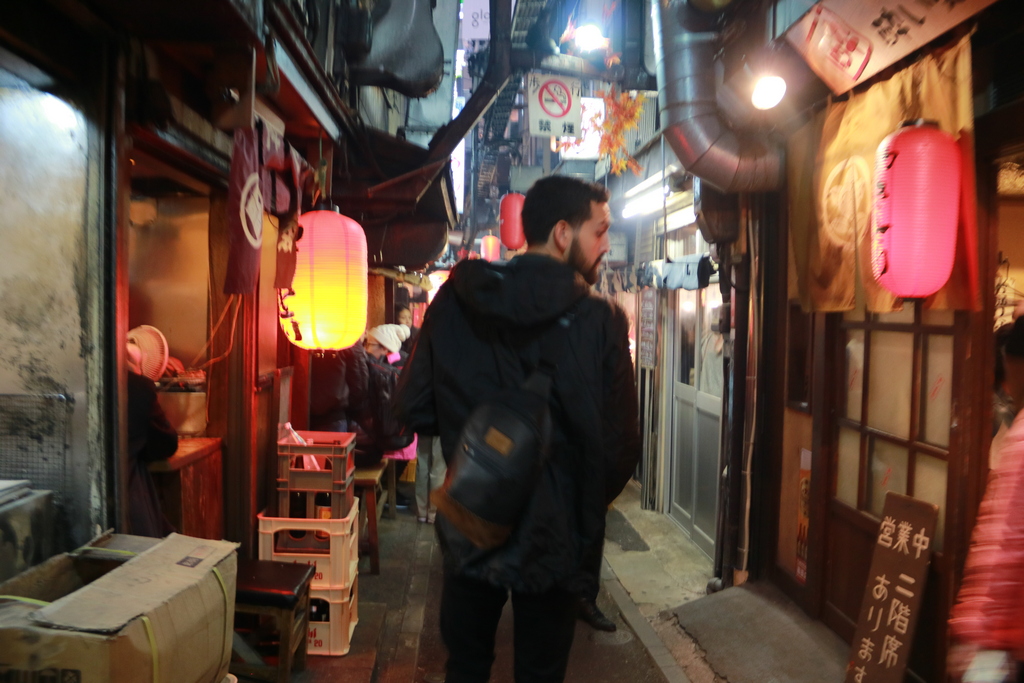 Photos on the streets of the Golden Gai are prohibited, but the architecture and density of this alley of restaurants (also in Shinjuku) is comparable.
The first stop was a really chill bar that only sat 6 people near the Robot Restaurant. Half of the group was eating ramen across the street and there were only a couple of seats free, so we got a bottle of hot sake and those who weren't eating rotated in and out until we finished it. Once we finished, it was time for a proper nomikai. We headed to Shinjuku's Golden Gai, an area with over 200 tiny eccentric bars that fit between 6 and 20 people max. Since this was the first time the majority of us were together, we had some trouble finding a place that would be able to seat us all but we lucked out at a bar called ロンリー (Lonely).
We were seated in the upper level of the bar. It was a tight but cozy fit. After some time had passed, a couple of fellow foreigners from the floor below came up to join us. One was from California and the other from New Zealand but they had met in Japan and had been traveling together since. They were both cool guys and wound up joining in our merriment. A round of Gin Beam Jim Beam (bar menu typos) later, and we grabbed an acoustic guitar off the wall and had ourselves an impromptu karaoke session. I'm pretty sure we scared at least one potential patron off with that but it was quite enjoyable.
Upon discovering that Lonely didn't have tequila, the group began to grow restless. By this time the last train had already left and train service wouldn't resume for another few hours. They decided it was time to hop to another bar. This time we found ourselves at a punk rock themed bar with our new drinking buddies. By this point I was starting to understand why I never saw the others after we got to Tokyo. The group had also been frequenting this bar regularly.
The bar was run by 2 middle-aged guys, one of whom was dressed like a manager, while the other was the bartender who looked ready to jump in to a moshpit at moment's notice. As the night wore on, I took a liking to the pair as I got to know them over highballs and music selections. In the process of translating band recommendations between one of the models and the manager-looking guy, I realized that the study claiming that alcohol might actually improve foreign language skills might be on to something.
At some point one of the production team members stepped out for some air. (Smoking indoors is still commonplace in Japan and part of our group was doing their best to deplete the ozone layer.) I followed him out of concern, only to witness him get groped by a jolly drunken salaryman to the surprise of us both. I guess it was that time of night because shortly after returning inside to tell everyone what had happened, I noticed a disgusted look on the manager's face and the bartender was now averting his gaze. It turns out that one of the members of our party started making out with our new Californian friend right behind me. A number of people began to express concern and the bar's owner looked quite uncomfortable witnessing such a lewd display. My inner production assistant knew that this was trouble, but it also didn't want to put out yet another fire. It was 03:30 and grown adults should be able to take care of themselves. Nevertheless, we came to the conclusion that it was time to bring our nomikai to a close.
The Walk of Shame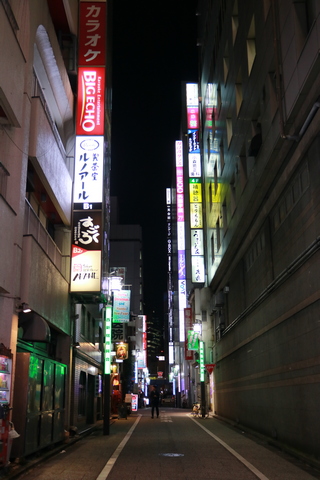 After paying our tab and exchanging goodbyes, we headed out to the darkened streets. It was about 04:15 and the night air was frigid. The group was fractured about how to proceed. I wanted to find somewhere to bum around until the first train came. Yet the others wanted to cross one last item off their bucket lists… experiencing a Japanese love hotel. If by some miracle you're unfamiliar with what a love hotel is, it is a type of short term (1 hour - 1 night) lodging that doesn't take reservations. Rooms are designed to accommodate 2 people who are almost certainly going to have sex.
Before I knew it we were in front of an absurdly fancy looking love hotel and I was being beckoned inside to translate a kiosk used to book rooms. Even at 4 in the afternoon I wouldn't know enough Japanese to help with that, so instead they picked a random room and took the ticket the kiosk spit out. I went back outside to count the minutes until the first train would arrive as the collective will of the group started to splinter. After discovering they couldn't get a single room for more than 2 people, most of them decided it was time to call it a day. We bid farewell to our fellow travelers, and half of us summoned a cab while the other half started walking towards the station.
The early morning trains don't run exactly the same as they do during the day, so it took us about an hour to get back to Asakusa. By the time we began our walk from the train station to our AirBnB, the Sun was rising and people were starting their day. We arrived at nearly 06:00. Taro, who didn't join us due to his taxi-induced financial situation, was still asleep in his futon. With our flight back to States in about 7 hours, the others began to pack. By chance, I had prepared most of my things before setting out the prior morning. I took full advantage of this and proceed directly to bed. It had been a long day and my final duty awaited, ensuring that everyone made it home alive.
I thought this would be the last post set in Japan, but it wound up being longer than I had expected. Next time I'll cover the return to New York. As always, if you're interested in the project itself, you can follow it instead of me on Twitter, Instagram, and Facebook.